Things just went 'south' in a hurry….  you're on short-final for Spokane International with "Emergency" declared, and you wonder what will be there waiting to meet you on the ground?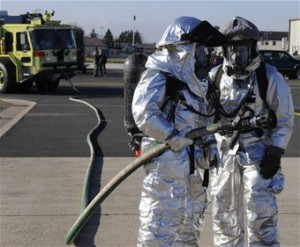 The men & women of the A.R.F.F. as they describe equipment, response protocols, and after-the-incident procedures and possible paperwork … while some pilots delay to declare, for fear of the "unknown response" factor and the red-tape. These Fire Fighters are going to show us that declaring an emergency is in everyone's best interest when unsure if it IS an emergency, or if the risks of one are high~
The Washington Pilots Assoc. Spokane Chapter…  In conjunction with FAA Northern Rockies Safety Team, International Association of Fire Fighters Local #1789, and with the generous support of Spokane Airways; bring you the ultimate in Fire/Rescue/Crash Response/Equipment safety seminars on Saturday, April 10, 2010 1400(local) at Spokane International Airport.
Lt. EMT Time Lively, and FF EMT Chris Wetherell will describe responding to incidents, crash and rescue mitigation, equipment plus select demonstrations. For more information, or to register,  please see the FAA FAAST website event #NM13331037 to reserve your seat, and, meet up at Spokane Airways 30:00 prior to event for complimentary shuttle service. Fly-Ins are welcome, and Spokane Airways has even graciously offered a generous full-service fuel discount for any attendees who ustilize the Flight Center.
Contacts: J.Townsley (highflight@q.com), FAA FAAST TEAM & Spokane Airways: (509) 747-2017
- AV8News
Posted on
March 26, 2010
| Posted by
Geoff Scott
|
Comment